The weekend of 25 & 26 April 2020 EFFORTS Europe and Stichting Liniebreed Ondernemen are organizing the European Fortress Day for the third time.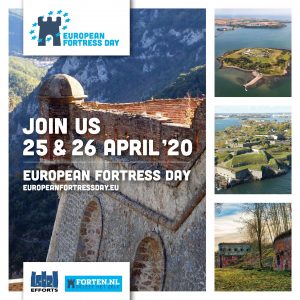 We do this because we want to put the beautiful military heritage with fortresses and fortified cities on the international map.  In 2019 there were 15 participating European countries that have jointly opened more than 100 heritage sites. Which fort will you visit?
Participate in the European Fortress Day? Send an e-mail to titia@liniebreed.nl with this completed participant form.
Download logo
Download join us banner
More informatie about European Federation of Fortified Sites: www.efforts-europe.eu
The program below is from 2019. In March we will upload the program of 2020.